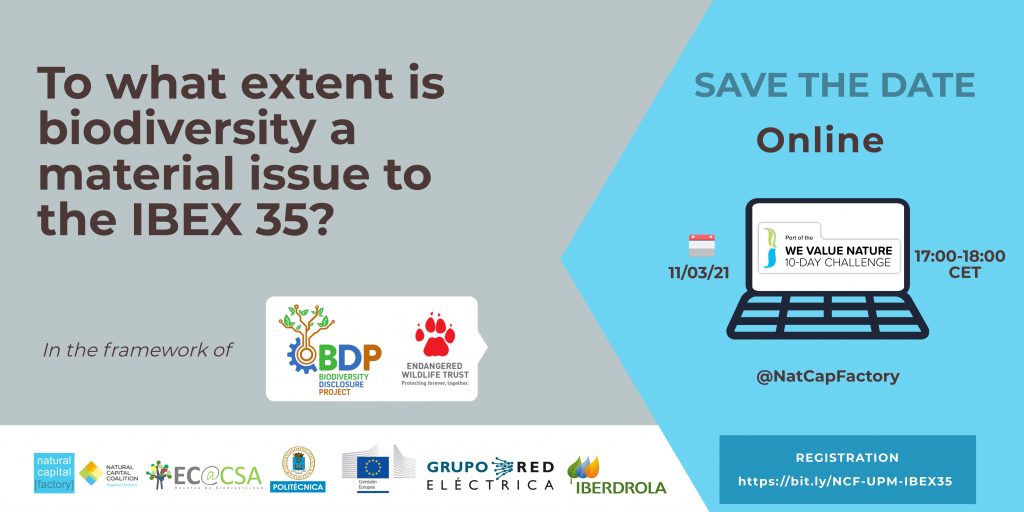 In this webinar, organised in collaboration with Ecoacsa and Universidad Politécnica de Madrid (UPM), the results of the analysis conducted by both organisations to assess the biodiversity-related information performance disclosure of the IBEX 35 will be presented. Representatives of the selective IBEX 35 will show examples of good practices and opportunities for improvement, and participants will also learn about the current situation of the EU regulatory framework and what is to come in this area.
Biodiversity loss is recognised as a planetary emergency, as it is occurring at rates unprecedented in human history according to recent landmark reports on the state of global biodiversity and ecosystem services and global risks. Given the increasing focus on biodiversity, public policies at national, regional and global scale, as well as the investment community and sustainability-oriented customers are demanding more transparency from business sector in terms of biodiversity-related issues disclosure and reporting.
What is the situation of the Ibex 35 listed companies in this regard?  To what extent is biodiversity a relevant or potentially relevant issue for them? How are they responding to the risks posed by their dependencies and impacts on biodiversity? To shed light on these questions, Ecoacsa Reserva de Biodiversidad and the Universidad Politécnica de Madrid have conducted an assessment across Spanish Stock Exchange Market corporates according to a transparent methodology developed by the Endangered Wildlife Trust (EWT) and based on publicly available data, including corporate websites, annual reports, among others. 
This initiative takes place within the Biodiversity Disclosure Project (BDP), that provides companies with a practical avenue through which to consolidate and report annually on their impacts and dependencies on biodiversity a standardized and comparable manner.
Thanks to the analysis, key gaps and strengths in terms of biodiversity risks and performance disclosure have been identified within the selective Ibex 35, which includes corporates from a variety of sectors such as energy, basic materials, industry and construction, consumer goods, consumer services, finance services, technology and communications and real state.
We are delighted to have the following panelists participating in the session:
Participants to the webinar will:
The webinar will take place on March 11, 2021
The official language of the event will be Spanish.


We inform you that UPM and Ecoacsa (through the Natural Capital Factory) will keep your personal details secure and use the information you provide consistently with applicable privacy and data protection laws and the terms of our Privacy Policy.

We will only use your contact details to manage communications related to this workshop, unless you indicate that you are interested in subscribing to our communications when registering to this webinar.
This workshop will be recorded. When registering to the webinar you agree with this and organisers' private policies.


For further information or enquiries, please contact Paz Ferrer (Natural Capital Factory) comunicacion@naturalcapitalfactory.com