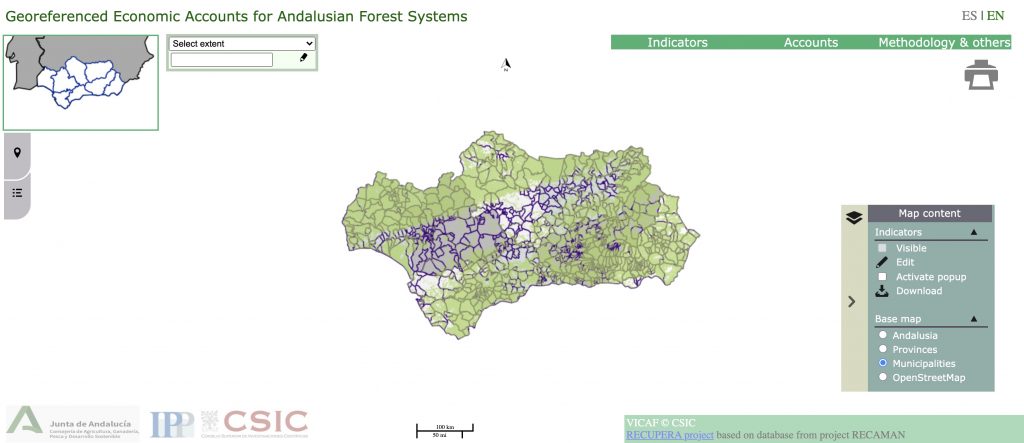 The project valuation "REnta and the Capital of the Montes de ANdalucía (Recaman)" (Income and Capital of the Andalusian Mountains"), promoted by the Environmental Economy Group (GEA) of the Institute of Policies and Public Goods (IPP) of the Spanish Center for Scientific Research (CSIC), has just launched the Viewer of Georeferenced Economic Accounts for the Andalusian Forest Systems. This web application uses the database developed within the framework of the project and allows to spatially visualized economic and physical indicators obtained from the project for the year 2010 at the Spanish Forest Map tile scale.
Recaman applies the agroforestry accounts method using the Forest Map of Spain as a cartographic base. In the application, you can also explore the capital and production accounts at different scales (Andalusia, provinces and municipalities) in table form.
The objective pursued by Recaman is the estimation of the total social income generated by the mountains, either originating from public or private management, with an application to Andalusia. To achieve this, its promoters have developed and applied the theory of total economic value  through a system of agroforestry accounts, which has been developed and disseminated by the GEA in national and international scientific publications.
The scientific novelty of greatest interest in this research is that it offers a pioneering methodology in the world of environmental and commercial valuation of total forest income on a regional scale with a microeconomic basis, which integrates both valuations in a green national accounting system of the mountains, in which commercial and environmental values are aggregated under homogeneous conditions, in accordance with the Hicksian economic conception of income.