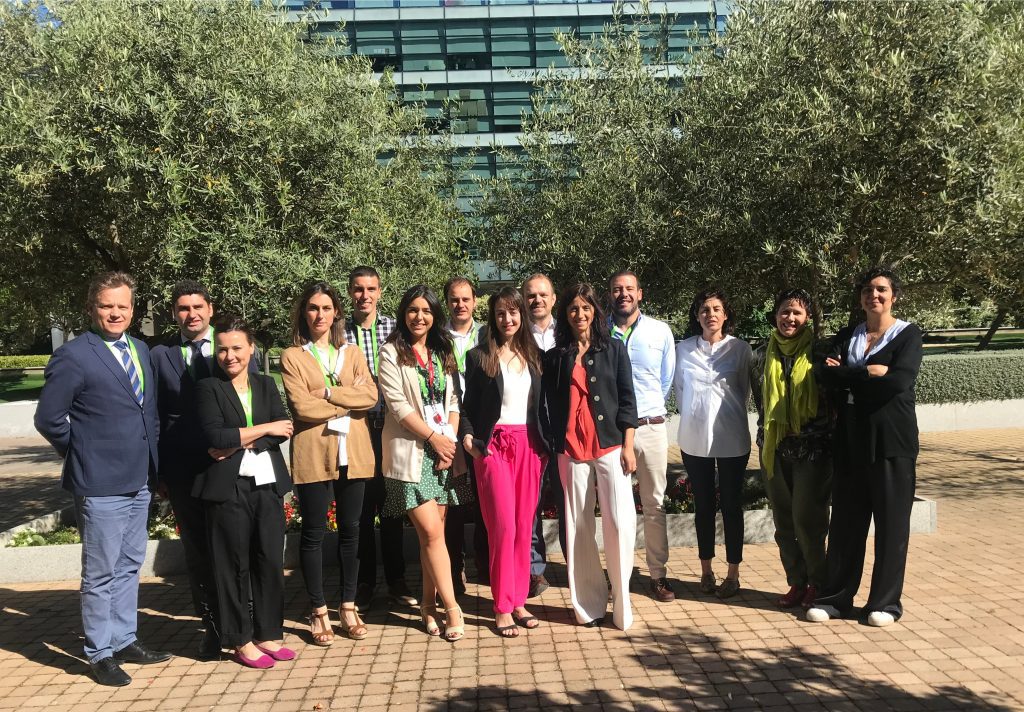 Preserving the good health of biodiversity and ecosystems is increasingly recognized as one of the global challenges that define our time. To ensure that their management and use are carried out in a sustainable manner is part of the transformative change demanded at all levels of society to move towards more sustainable economies, while development is guaranteed.
In this context, the important role that sectors carrying a great weight in the economy and interaction with the environment (energy, agri-food and finance, among others) can play to promote this transformative change is unquestionable. Aware of this, eight Spanish energy-sector companies have started a collaborative project to have a greater and better understanding of their relationship with nature.
Representatives from Cepsa, EDP Spain, Enagás, Endesa, the Red Eléctrica Group, Iberdrola, Naturgy and Repsol share knowledge and work together lo have methodologies -adapted to their different characteristics and consistent with the current context- to identify, measure and value the natural capital. 
Through this natural capital assessment they will have information on the value that natural goods and services provide to their stakeholders and society, thus enabling them to make greater and better contribution to nature conservation.
Through the application of the Natural Capital Protocol of the Natural Capital Coalition –first-ever standarised framework developed to help businesses to measure and assess their impacts and dependencies on natural capital- Azentúa and Ecoacsa support participants in the first Working Group on Natural Capital and Energy at a global scale to search the necessary tools to facilitate natural capital mainstreaming in the Spanish energy sector.
The initiative is part of the "Sector Groups" of the Natural Capital Factory, the Spanish regional platform of the Natural Capital Coalition, whose aim is to ensure that nature is included in global decision making. 
The project aims to serve as a reference to other companies and sectors and to motivate them, both at national and international scale, to undertake similar collaborative learning processes and share good practices to expand action in favor of sustainable development. To this end, the work carried out within the group will be reflected in a publication drawing companies´ experience in applying the Natural Capital Protocol. The document will collect examples of the challenges and solutions found in the process of considering to integrate natural capital into Spanish energy sector´s decision-making, as well as applied cases.
Collaborative and plural spirit, an international reference
The collaborative and plural nature of the Spanish Working Group on Natural Capital and Energy, which includes representatives of the divisions of Sustainability, Environment, Safety, Quality and Regulation from electricity generation; oil and gas; global operating electricity and telecommunication infrastructures; management and operation of gas infrastructures network make it unique in the world.
"We at Cepsa are convinced that the development of our activities and the preservation of the environment must go hand in hand. We join this working group to continue promoting our commitment to natural capital and exchange best practices with other companies in the sector. "
"EDP is aware of the importance of biodiversity and the fundamental services it provides; its protection, assessment and restoration is a global challenge expressed in the Vision 2050 of the Convention on Biological Diversity, a commitment that Europe has assumed in all areas, including business. In this respect, with its participation in this working group EDP Spain intends to reaffirm its strategy on biodiversity and to establish common lines of work with other energy companies that allow to highlight the value of their contribution to the global objective."
"The management of natural capital is one of the key aspects of Enagás in the generation of long-term value for our stakeholders. Participating in this initiative will help us to deepen the analysis of our relationship with the natural environment, which will enable us to integrate this aspect into decision-making."
"As a company that it is firmly committed to environment and biodiversity, Endesa considers it essential to integrate natural capital and ecosystem services not only into environmental performance reporting, but also into corporate decision-making. For this reason, it is determined to gain knowledge in this field through participating in a pioneering working group in the energy sector at global scale."
"At Red Eléctrica Group we have set a long-term objective based on natural capital, which seeks to generate a positive net impact on natural capital in our facilities surroundings. Being part of this working group places us at the forefront of those companies that are strongly committed to sustainability and the conservation of environmental and social assets."
"The analysis of the impacts and dependencies of our activity on natural capital can be a fundamental tool for meeting our commitment to protecting the environment and biodiversity. The initiative constitutes a perfect platform to share knowledge and common experiences. We are convinced that this exchange will be of great use for the systematic and progressive improvement of our relations with the environment."
«El capital natural es una novedosa herramienta para incluir la biodiversidad en los procesos de toma de decision estratégica de las empresas. Esta iniciativa colaborativa nos ayudará a impulsar el capital natural y la protección de la biodiversidad en nuestras organizaciones».
"Our goal is to continue advancing in the integration of the environmental component in company decision-making. To do this, we have proposed to develop and implement a quantification and assessment model of environmental impacts and the dependencies that our activities have on natural resources, based on the concept of natural capital. Participating in this initiative will be very valuable to achieve it."
"What is not measured, what is not quantified cannot be properly valued. Putting value on our natural environment and its services is difficult both from an ethical perspective and a technical perspective. Nature is often considered as "worthless" and as a-long-term one, this will result in real economic and financial impacts. This group gives the opportunity to continue learning to value our natural capital."
"Business decisions consistent with the commitment to move towards more sustainable models can only be taken if natural capital is valued and respected. The organisations involved in this project start from this basic premise and recognise natural capital as another business asset, which is a critical step to guarantee its better management."