Family photo of the Working Group on Natural Capital and Energy.
Cepsa, EDP España, Enagás, Endesa, Iberdrola, Naturgy, Redeia and Repsol have worked collaboratively for three years, coordinated by Azentúa and Ecoacsa, to agree on a common terminology, framework and methodology for the identification and valuation of natural capital, applicable to the global energy industry.
The work developed and the results obtained are particularly timely in a context where the environmental, geopolitical, social, governance and technological risks associated with the transition to a zero net-emission, nature-positive global economy require companies to provide solutions, rethink their business models, assess, and report on their social and environmental impact, and constantly adapt to ensure long-term success, strategic resilience and value preservation.
It is particularly relevant the current context of the global political agenda. The COP 27 on Climate Change, which kicked off last Sunday in Egypt, is serving to reinforce the recognition that the solution to the climate emergency will not be possible if we do not take nature into consideration. In addition, less than a month remains before the 15th Conference of the Parties to the Convention on Biological Diversity (COP 15 CBD) begins in Montreal (Canada). It will see the adoption of the most relevant universal agreement for the nature of our planet over the next decade: the Post-2020 Global Biodiversity Framework.
The implementation of this framework will involve policies, regulations, and actions, at regional and country level, that will have direct consequences on companies' operations and business models. In this regard, among the 22 targets envisaged by the GBF for the next decade, Target 15 proposes mandatory requirements for large companies and the financial sector to assess and report their impacts and dependencies on biodiversity.
The eight energy companies that are part of the Natural Capital and Energy Working Group, which is part of the Sectoral Groups of the Natural Capital Factory -Spanish hub of the Capitals Coalition-, have focused on carrying out a natural capital assessment, which has made it possible to identify and quantify (in qualitative terms) both the impacts that the companies' operations cause on nature and their dependencies on it.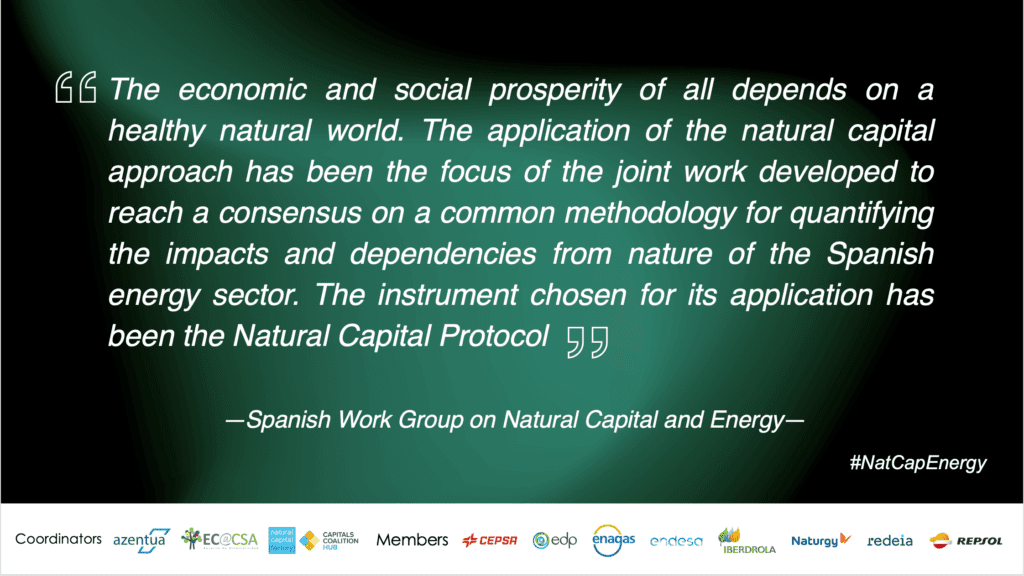 The application of the natural capital approach has been the focus of the joint work developed, and the instrument chosen for its application has been the Natural Capital Protocol.
The analysis carried out to identify the ecosystem services most relevant to the businesses of the eight companies in terms of impacts (negative and positive) and dependencies was evaluated considering three levels of materiality: high, medium and low.
The activities and sub-activities evaluated were electricity generation with renewable sources (onshore wind, offshore wind, photovoltaic and hydro); electricity generation with non-renewable sources (cogeneration, combined cycle, fuel gas thermal, coal thermal and nuclear); electricity transmission and distribution; operation and management of gas infrastructures and gas transportation; exploration and production of oil (and its derivatives) and gas; refining and petrochemicals. All of them were analysed from a normal operation point of view, without taking into account accidental scenarios or actions derived from the construction or dismantling phase of projects.
As a result of the joint work, the following are the result of this work: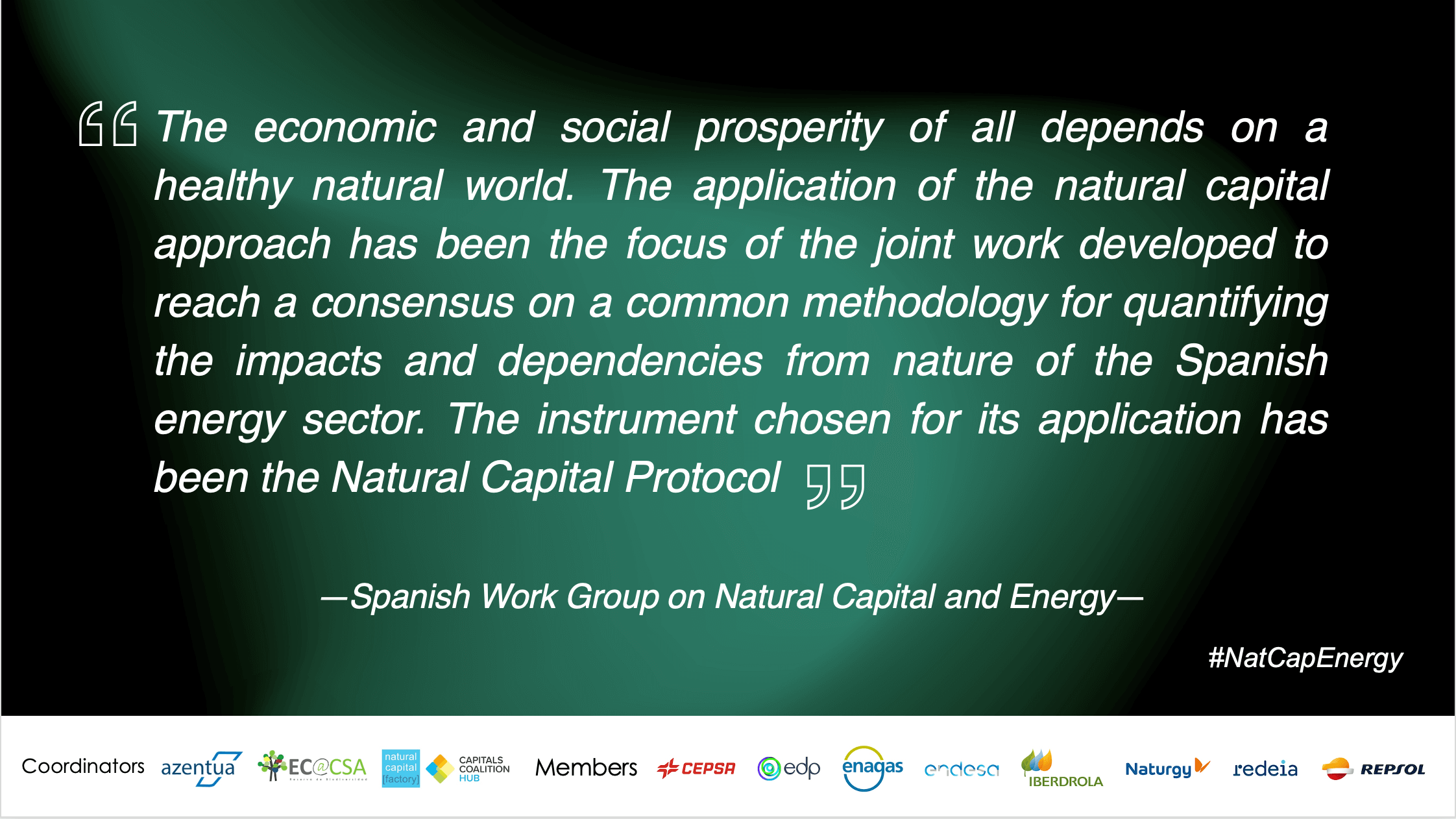 The qualitative assessment of the negative impacts of company operations on ecosystem services shows particular concern for:
The path we have followed has allowed us to obtain qualitative and generic results that facilitate the development of case studies and organisational valuations of natural capital. 
The results obtained are a first approximation, qualitative and consensual, for the approach to natural capital approaches.
During the presentation of results, we had the presence of Tania López-Piñeiro, Deputy Director of Terrestrial and Marine Biodiversity of the General Directorate of Biodiversity, Forests and Desertification of the Spanish Ministry for Ecological Transition and Demographic Challenge; Marta Santamaría, Senior Director of the Capitals Coalition; Gonzalo Sáenz de Miera, President of the Spanish Green Growth Group; and the members of the Natural Capital and Energy Working Group. Some highlighted statements:
Tania López-Piñeiro
Deputy Director of Terrestrial and Marine Biodiversity of the General Directorate of Biodiversity, Forests and Desertification of the Spanish Ministry for Ecological Transition and Demographic Challenge
"The Conference of the Parties to the Convention on Biological Diversity will soon take place in Montreal, which is sister to the climate change convention that is taking place these days. At the Biodiversity COP, a very relevant milestone is expected to take place: the approval of the new Post-2020 Global Biodiversity Framework, which we hope will mark a turning point for the recovery and restoration of nature. This framework will not only set the path to be followed by public administrations in the field of nature, but also reflects the commitment that must be made by society as a whole and other stakeholders, including the business and financial sectors. We hope that this new framework will truly represent a transformative change in the way we relate to nature in this paradigm shift that has already begun with the 2030 Agenda for Sustainable Development."
"It is very interesting the work you have been doing in the context of this working group, focused on the energy sector, to advance in the construction of a harmonized approach to identify and measure the impacts and dependencies of your activity on biodiversity. In particular, I consider that the collaborative effort developed to work along these lines is very interesting. Precisely, there is a campaign launched on a global scale in view of the Biodiversity Summit [COP 15 CBD], in which more than 300 companies are demanding mandatory requirements for the disclosure of impacts and dependencies. The work you are doing will contribute to the fulfilment of these requirements."
Marta Santamaría
Senior Director, Capitals Coalition
"From the Capitals Coalition, we advocate pushing for measurement and valuation, but we are not alone. The president of the World Economic Forum, Klaus Schwab, acknowledges that he is convinced that we need to redefine capitalism. We need to take into account not only financial capital, but also social, natural and human capital. Companies that want to be successful today must incorporate all these components into their strategy."
"It is critical to understand that all companies impact and depend on both nature and people, yet this is often not always visible in decision making. Traditional valuation has focused on financial capital, but there are many other elements, such as nature, that also create value for companies. So if you invest in natural capital, you can generate value in the long term."
Gonzalo Sáenz de Miera
President of the Spanish Green Growth Group
"I would like to congratulate you for three reasons: firstly, for the project, because I believe it is a vital issue that you are working on, given that the current energy model is at the origin of the problems of loss of natural capital, both in terms of climate change and biodiversity loss. Secondly, for the collaborative approach between companies that are so diverse and have such different interests, but share the common goal of environmental sustainability. And thirdly, I would like to congratulate you on the timing. These days the COP 27 on Climate Change is taking place in Egypt, but in less than a month, on December 7, the COP 15 on Biodiversity will start in Montreal (Canada), which will be an essential summit for nature and the adoption of the new post-2020 Global Biodiversity Framework is expected to represent a similar moment as the COP 25 on climate change in Paris."
Ana Álvarez Arias de Velasco
Director of Environmental Development, EDP Spain
"One of the great values and lessons learned from the materiality matrices resulting from the work carried out has been to be able to connect the results obtained -a limited list of ecosystem services on which our activities impact and depend- with the information on social and environmental actions included in the sustainability plans, in a language that is accessible to the entire organisation. For example, being able to explain that a hillside reforestation project will prevent soil erosion and replenish a certain ecosystem service that is most affected by a hydroelectric plant located a few kilometres away provides a picture in the form of compensation and remediation of the connection between our impacts and actions."
"Transferring the concept of biodiversity that we had been working on all our lives to the context of natural capital has been the great achievement of this work. To our pleasant surprise, we managed to change the EDP Group's Environmental Policy to update it conceptually. It now talks about natural capital and ecosystem services. Our chairman announced last year, on the occasion of the presentation of the 2025 Business Plan, that the decision tools for future projects will be the circular economy and the impact on natural capital. Obtaining the materiality matrices of our impacts and dependencies has opened our eyes to be able to move forward in measuring, not in euros, but qualitatively, which was what we needed to know in detail the effect of our operations in order to be able to control it."
Alejandro Rodríguez Palao
Environmental Area, General Directorate of Regulation and Institutional Relations, Endesa
"In the face of the regulatory tsunami that is coming, an interesting idea for further work in the Natural Capital and Energy Working Group is to work on a sector position paper. Currently, utilities in particular, but the whole sector in general, are faced with the need to drive electrification and reduce emissions, which implies further development of renewables. At the same time, we must respond to biodiversity regulation. Climate regulation somewhat limits the development of nature regulation and vice versa. Translating our analysis into a position paper could help the public administration to develop regulation in a way that is friendlier and more approachable for everyone."
"We are particularly concerned and find the transparency framework interesting for this Working Group: we must define a series of specific objectives that must be homogenized, especially in terms of content and time frame. This common work will help us to optimize our work, so that all the information to be reported is homogeneous and useful. At the end of the day, you are what you report."
Elena Blanco Lozano
Manager of Environment and Sustainability, Enagás
"The work carried out in the Natural Capital and Energy Working Group has allowed us to complete the results of other evaluations that we carry out annually at Enagás derived from our environmental management system and certifications, such as the environmental assessments or the risk assessments derived from the loss of nature that we are starting to develop. In short, the results allow us to complete a puzzle to be able to prioritise actions that allow us to move towards the fulfillment of our objectives."
"Our main impacts are mainly on the atmosphere through GHG emissions and, going a step further, we have assessed the impact on ecosystem services related to air quality regulation and carbon capture and storage for climate regulation. These are both negative and positive impacts. This exercise has enabled us to highlight the many initiatives that companies are undertaking, mainly related to the application of nature-based solutions, which are having a positive impact on these ecosystem services and counteracting the negative ones."
Emilio Tejedor
Head of Environment and Quality, Iberdrola
"It has been very challenging to work together with the rest of the companies in the Natural Capital and Energy Working Group. The conceptual and mental framework of the natural capital approach is very complex. We have had many meetings in which there was a lot of knowledge sharing, not without difficulties, which, at times, led us to deviate from the path we should follow. But we have reached an important starting point that all the companies involved are taking advantage of and I consider that there is a way to continue progressing (...). The collaboration is very positive and I encourage to continue it. At Iberdrola, we had been approaching the concept of natural capital for some time and we did some exercises in networks and hydraulics; but the Natural Capital and Energy Working Group has given us the possibility of taking a broader perspective to start looking at it from a corporate point of view, at a high level".
Isabel Tomé
Head of Biodiversity, Iberdrola
"After this work, the members of the Natural Capital and Energy Working Group are now colleagues. We are all facing the great challenge of decarbonization and progress towards becoming positive for nature and adapting to the new Global Biodiversity Framework, which requires companies to report our impacts and dependencies. Perhaps we are a bit crazy and we are putting a noose around our necks in our commitment to report this information, because we still do not know how to do it, but it is necessary to move forward on this path, and this working group has supported us in this regard. This common work has helped us to continue advancing in the valuation of natural capital, to integrate our relationship with ecosystem services in our decisions and to scale this information up so that they begin to understand it, which is having an effect. We are starting to talk, not only about the environment, but also about natural capital and nature. This is an important grain of sand that we have managed to introduce in our companies."
Nieves Cifuentes Valero
Corporate Environment, Naturgy
"This business cooperation project will allow us to deepen our nature protection strategies, so we need to be able to bring nature into the company's profit and loss account so that when business strategies are made and decisions are taken, nature is considered at the same level as climate. This work is the first step towards integrating nature in the same way as climate is considered."
"What this work has given us is above all a language that allows us to elevate issues related to the management of nature to a more strategic level. This language, which is understandable to the rest of the organization, is natural capital, because it allows us to translate nature into the language of business. We are working to increase the ambition of our Biodiversity Strategy and the work with the companies in the Natural Capital and Energy Working Group will be the starting point. We already have a materiality analysis, so we know where we need to go deeper and what impacts and dependencies we can try to monetize. This analysis will help us to define indicators and targets, to be able to translate this information into risks and opportunities and to really get it into governance and strategy and become part of the company's corporate DNA."
Yliana Fernández
Renowables Environment, Naturgy
"This work has given us a 360-degree view of the energy value chain, knowing all the value processes that we now manage to integrate. In addition, we see it as a very important opportunity to translate the decision makers know, through a methodology that is as objective as possible, how our dependencies and impacts affect the environmental costs and gains that projects will have."
Irene Gómez Barrio
Head of Sustainability, Redeia
"The next steps of the work we have initiated in the Spanish Working Group on Natural Capital and Energy are: to report information that is transparent and comparable to enable decision making. This is the way to integrate it into the management bodies. In this sense, investors will push very hard, because when they see that the information is comparable, discriminations will be established and capital flows will be more aligned with the businesses that they consider create the most value."
"The creation of shared knowledge is very valuable, even more so when steps are being taken in an area in which there is still a long way to go to make the most of the large amount of information available to companies, which must be translated into impacts and dependencies in a way that is understandable to all stakeholders. Possibly, the final step in this work will be monetization to facilitate decision making, both at the Board of Directors and financial level."
Carolina Ibáñez Cacho
Manager of Environmental Development, Repsol
"It seems very obvious that what is not measured cannot be improved, but for those of us who work in the environmental field it is not so obvious to be able to measure. For example, almost everyone knows how to measure a ton of CO2 and the related emission factors, but if we talk about water, we are already talking about quantity and quality, and there is no single indicator of biodiversity. When it comes to impacts and dependencies, things get more complicated, and if we add to this the concept of "double materiality" to relate the data from a financial perspective, the difficulty is even greater."
"Traditionally, we have been working a lot on impacts and we have a much better understanding of them, but not so much on dependencies. These are very complex and require greater knowledge because the impacts are usually more obvious. What we have learned in the Natural Capital and Energy Working Group will help us to focus our efforts and direct our actions and future projects not only towards the impacts, but also towards the dependencies."