The report Assessment of biodiversity measurement approaches for businesses and financial institutions. Update 2  (Evaluación de enfoques de medición de la biodiversidad para empresas e instituciones financieras. Actualización 2) identifies common ground amongst biodiversity measurement approaches with the final objective to support businesses and FI in selecting an approach that best fits their specific business context. 
The Report is based on a thorough analysis of 12 biodiversity measurement approaches, technical workshops by the Aligning Biodiversity Measures for Business initiative and feedback from the discussions during the European Business and Nature Summit in Madrid on 7 and 8 November 2019.  The report Annexes are available here.
In light of the growing interest in natural capital accounting (NCA) and a clear demand for methodologies for including biodiversity into NCA, a wide range of initiatives have been launched to develop pragmatic biodiversity metrics for businesses and financial institutions. Faced with multiple approaches and based on requests from its members, the EU Business @ Biodiversity Platform (EU B@B Platform) started a critical and constructive assessment of a sample of biodiversity measurement approaches developed for or by businesses and FIs in 2018.
Report anexes are available here.
LIFE methodology, among the main metrics to measure impacts and dependencies
As detailed in the report, "five main metrics are used to quantitatively add impacts and dependencies: average species abundance (MSA), potentially missing fraction (PDF), risk of extinction, index added as the index of impact on biodiversity (used by LIFE Key to calculate the pressure of companies on biodiversity) and monetary value (for example, euros). A sixth option, used by some measurement approaches, is based on qualitative aggregations of evaluations."
The biodiversity impact index (used by LIFE Key) calculates the pressure of companies on biodiversity, and is among the 12 global initiatives on biodiversity measurement approaches and outreach frameworks evaluated in the report.
LIFE Key is a management tool developed by the Institute LIFE of Brazil that helps organizations in the management, analysis and dissemination of environmental data. It allows the evaluation of implemented conservation actions and provides crucial detailed information for the decision-making process that affects the maintenance and improvement of biodiversity and other services provided by nature.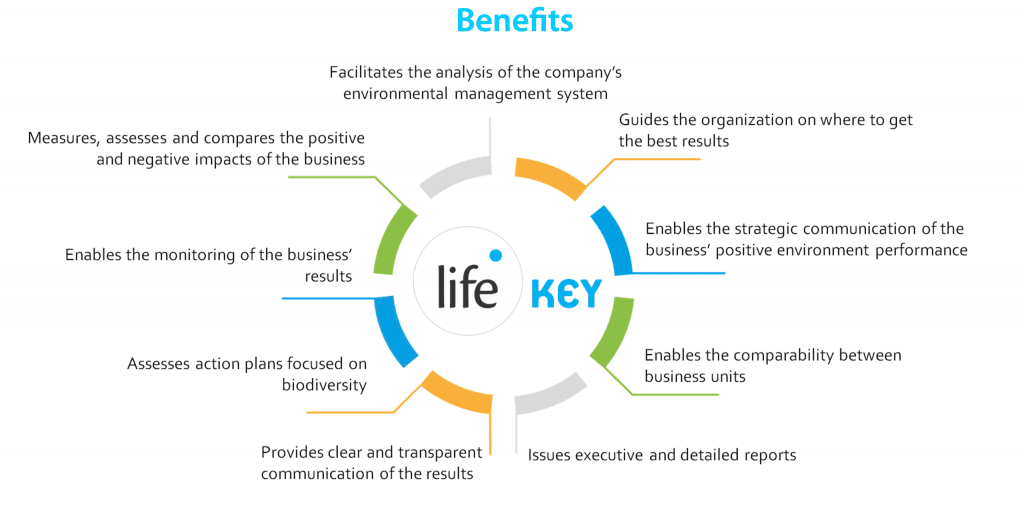 The LIFE Methodology helps organizations identify their impacts and design a strategic plan to reduce, mitigate and compensate them, including a specific approach to reduce impacts on the supply chain. By using the Biodiversity Impact Index (BII -Índice de Impacto a la Biodiversidad, IIB-), an organization calculates and evaluates its impact based on five environmental aspects taking into account the quantity and severity criteria.
A key outcome of this year's update of the assessment report is a classification of measurement approaches according to the type of business applications they can support. This will ultimately result in a decision tree allowing business users to select the most suitable biodiversity tools and metrics for their specific needs and management decisions they wish to inform (Section 3). Important steps forward towards convergence of approaches have been made in the fields of defining boundaries, baselines and reference states (Section 4), collecting data and identifying suitable metrics (Section 5) and finally reporting and disclosure (Section 6).
The 2019 report is a partnership with the Aligning Biodiversity Measures for Business initiative – led by the UN Environment Programme World Conservation Monitoring Centre (UNEP-WCMC) with support from the Boticario Group Foundation.
The Update 1 Report is available here.
So far, only measurement approaches have been assessed. In 2020 the Update 3 Report will for the first time include an assessment of case studies resulting from these biodiversity measurement approaches.